Bob Lucido was at the top of his game until the market crashed. By carefully calibrating his return, he's back STRONGER THAN EVER.
Before the housing market crashed in 2007, Bob Lucido's team was selling upward of 3,000 new homes a year. That proved unsustainable, so in 2014 Lucido developed a solid business plan to close 500 units and drive millions in gross commission income annually. The plan has been more than successful. Last year his team closed over 1,500 units.
He shares his strategy for how to sell a house in five days and zero on a profitable niche.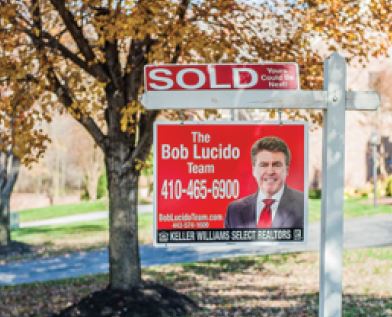 A 41-year real estate veteran, Lucido joined Keller Williams in 2013 with a long track record of success. His original real estate venture, Builder's First Choice, reached nearly $1 billion in sales before he sold it in 2007. The Home Builders Association of Maryland named him #1 REALTOR®of the Year in 2009, 2010 and 2011, and he led the top RE/MAX team in Maryland and the Central Atlantic Region. "After successfully representing builders and reaching our peak in 2006, I thought life was pretty sweet. I even thought maybe I was smart and had figured out this incredible process," Lucido recalls. "Then the crash came in 2007. I went from having 300 employees and six offices, sales in 16 states and plans to franchise our business to survival mode. We closed our doors."
Discouragement Inspires Determination
A candid Lucido admits 2007 was one of the most discouraging years of his life. More money was going out than coming in and he had no clear vision for the future. "Uncomfortable" is not a strong enough word to describe his mindset. Lucido and his wife, Tracy, were down, but they refused to fizzle out with the declining market. In 2008, the duo launched The Bob Lucido Team. They didn't take a paycheck for two years and worked seven days a week – but they were determined to rebuild. Lucido dusted off all of his "positive" success training books and seminars and developed a strategy he was sure would help him start over smartly and sustainably at age 50. He sold several rental properties he owned and liquidated stocks to infuse cash into his new real estate venture – then he started knocking on doors in his parents' neighborhood to, as he puts it, "retrain his brain" and get back to basics. Lucido determined to shed his "big shot" mentality and prove he was willing to do anything that he would expect his future team members to do. It worked. Today, The Bob Lucido team is comprised of over 200 team members! A year after joining the Keller Williams family, The Bob Lucido Team was already one of the top-producing teams in the company. "There was a lot of sacrifice and risk-taking, but we charged forward. We have taken advantage of Keller Williams' Mega Agent Expansion program and have 23 locations across the United States," Lucido says.
How to Sell a House in Five Days
Lucido's strategy was bigger than knocking on doors. He developed a "Sell a house in five days" program and accelerated his lead generation through open houses. He personally does 44 open houses a year on Sundays and his team does an average of 30 a week. Here's how the five-day house selling program works: Lucido lists a home on Thursday that is priced right, staged perfectly and advertised strategically. Often, offers start coming in Friday or Saturday, but Lucido won't sign a full-price offer until after the Sunday open house. Lucido says this strategy creates a fear of loss and higher bids. "We just sold a house listed for $585,000 for $612,000 in five days. Open houses work. Don't fall into the lazy approach or buy into the lie that open houses just attract neighbors or lookers. I have listed so many neighbors' houses I could fund my kids' college educations with just those leads," Lucido says. "Open houses work."

Succeeding in Niche Markets
Working with what Bob knows best, The Bob Lucido Team has a new home division that focuses on builders. The team generates referrals from new home agents who work for builders such as Ryan, Lennar, and Beazer. This gives Lucido and his team leverage. Then, there's the "Silver Group," a division within his team dedicated to providing specialty services to address the challenges associated with a senior move. "Seniors are downsizing and need to sell their homes. We offer a list of services and offer them downsizes, estate attorneys, stagers and essentially remove the burden," Lucido says. "Our percentage of business in this area is growing nicely and we are looking for more ways to offer more services – and to offer these same services to out-of-state assisted living communities, attracting residents from Maryland."
Never Stop Learning
Lucido is big on training and coaching because he believes nobody should ever stop growing or learning. For his part, he attends every Keller Williams Mega Camp and Family Reunion. He says he learns so much his biggest challenge is implementing specific action plans. Lucido compares the evolution of his business to the ongoing success of Cal Ripken Jr., baseball's "Iron Man," who played 21 seasons with the Baltimore Orioles.
"Cal Ripken Jr. is one of the most extraordinary people I have had the pleasure of working with and knowing. His work ethic, integrity, passion for the game and humble attitude is unparalleled in sports and life," Lucido says. "He never let up in his approach to the game and to life. He was always looking for better ways. He constantly changed his stance to adjust to his aging body. That is what we must do in this business – adjust and adapt to achieve optimal results."
If Lucido has learned anything in 41 years of real estate success and challenges, it's the power of a team. As he sees it, success depends in large part on the people with whom you surround yourself.
"We have an incredible group of dedicated team members, all of whom have contributed to our success. I call them all partners because they are," Lucido says. "My wife and partner Tracy and daughter Lauren, who is our director of marketing, work tirelessly and never let up. I couldn't find two better partners who inspire and lead the rest of the team with effort and passion."
Learn how open houses can help you lead generate through the roof for listings. Download our Open House Toolkit below.
This story was originally published in the OutFront Magazine on February 15, 2015.